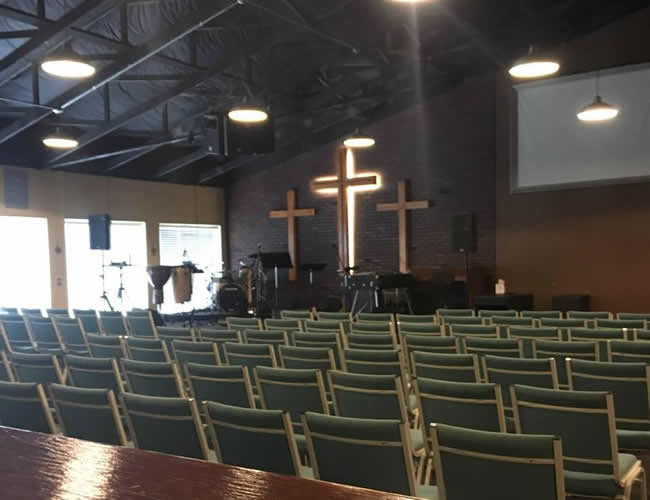 From the comfort of your home watch the Rock House Church sermons on Rumble.  We use the sermons to teach verse by verse through one book of the Bible at a time.  Keeping it in proper context and making it applicable for life today.
Welcome

to Rock House Church

The Rock House is a non-denominational church located in Linn Creek, MO. We are a come as you are church, where you will experience some original worship music mixed with worship songs of the past. We also strive to make the scriptures applicable for life today. So come in, enjoy the family…welcome home.
NEVER CLOSED ON SUNDAYS!
Sunday Mornings:
Coffee fellowship at 9:45 a.m.
Service at 10:15 a.m.
Nursery, Children & Teen Services Available
The Rock House Church…Where Everyone Is Welcome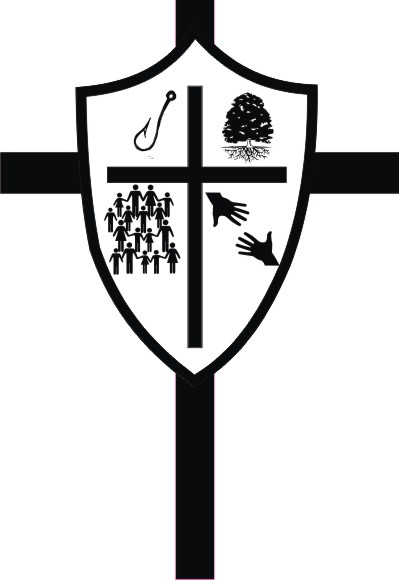 The Rock House is a non-denominational, bible-based minstry located in Linn Creek, MO. We reach out to the lost with the simplicity of the gospel every week.
We believe in challenging believers to conform to the likeness of Christ through the message and through the discipleship process that we offer. We are reminded that our faith should be evident in all we do, as reflected by our cross and shield.
Our shield represents our faith in the finished work done by Christ on the cross (John 19:30).
The fishhook of our shield represents evangelism as communicated to his disciples by Christ (MK 1:17)
The tree with roots represents personal growth from discipleship (MT 28:18-19)
The hands represents acts of service to the body and the world (Eph 4:11-12)
The crowd of people represents fellowship of believers in and out of church services (Act 2:42)
We are a church lead by plurality, 8 individuals including the pastor coming together to seek God and lead his flock.
Worship

Music

One of the many ways we can honor our Lord is through praise and worship. Music is an important part of Rock House ministry and you will find a wide variety of it in our Service. Songs and Hymns are picked with the purpose of aligning with the Holy Scriptures and coinciding with the weekly message. Our goal is that the songs and the message are carried by each person when they leave. The team is composed of talented musicians that love to lead God's people into His presence, led by Joel Jones. If you have any musical gifts and would like to get involved in this area of ministry, please let us know. As always, everyone is welcome!

"Come, let us sing for joy to the Lord; let us shout aloud to the Rock of our salvation." Psalm 95:1.
Current

Study

On Sundays we are studying the book of Revelation.  Our studies entail understanding the contextual foundation of the Word, studying the scripture verse by verse, and relating it to our lives.
Important

Dates To Remember

OCC May Collection Items: Flip Flops.
For questions or more information contact Vickie
Shelton.
---
Friday 6/3/22 & Saturday 6/4/22
8:00am – 3:00pm

OCC RUMMAGE SALE

Donations may be dropped off on the following dates:
Sunday 5/29 – Following Service

Tuesday 5/31 – 8:00 – 11:00am

Wednesday 6/1 – 5:00 – 8:00pm

Thursday 6/2 – noon – 6:00pm
Thank you for your support
---
Friday 6/10, 5:00 – 8:00PM.
KIDS NIGHT IN, PARENTS NIGHT OUT
Drop your kids at the church and enjoy a night out!  There will be faith talks, crafts and so much more. Dinner is provided for kids and volunteers.  See Jarod & Tara Ivey for more info.
---
Sunday 6/26, Immediately After Worship Service at Tezaks Home
ANNUAL CHURCH PICNIC & BAPTISMS
Save the date for our annual church picnic and baptisms. For more info on baptism, see Pastor John.  The church will provide the fried chicken. There is a sign-up sheet for sides & deserts in the church entry.  
---
Saturday 7/9  2:00pm 
OCC Testimonial Guest Speaker
Save the date!  Evangeline Franzon, an Operation Christmas Child (OCC) shoebox recipient from the Philippines will be sharing how God used a shoebox gift to transform her life.  Everyone is welcome.